Anytime you get coaches together over a cup of coffee, we're bound to talk about coaching. It shouldn't come as a surprise – if you love what you do, then you are more likely to bring it up over conversation.
In one of my most recent coaches-coffee-roundtables, the topic of Big C and Little C coaching came up. If you are not familiar with the concept of Big C and Little C coaching, let me take you behind the curtains
Transactional vs. Transformational

Often the argument is driven by one's point-of-view (POV) and definition of transactional vs. transformational. A professional coach's nature is designed to want to create impact. That "impact" is usually associated with a commitment to transformational shifts for their clients. By default of perceived limitation, transactional becomes less desirable.
And hence, we arrive at the POV one type of coaching is transformational (Big C) and, therefore, is preferable to the other (Little C) because the POV is transactional lacks impact.
Situational Leadership
In Paul Hersey and Ken Blanchard's model, we move away from the POV that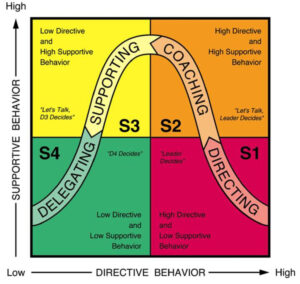 management and leadership behaviors are independent / oppose to one another, but rather to the POV that they need to be fluid, interchangeable, and responsive to what the situation requires of us as leaders of people in a workplace setting to develop talent and enhance performance.
The POV of Coaching as a suggested technique in this model (situated in the S2 quadrant) is it is more transactional-like because it is a directive behavior, so falls into the category of Little C coaching.
Push / Pull in Coaching
Further anchoring the POV transactional coaching is non-impactful is the directive, push approach typically associated with it.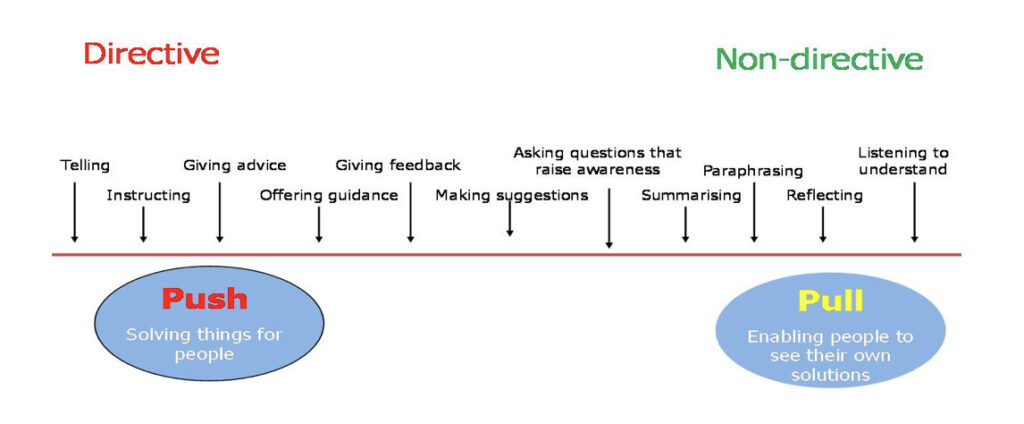 The generally accepted POV is non-directive, a pull approach, is more Socratic, client-centered, and aligned to enable transformational impact because it is inductive in nature.
However, I would like to reframe these POVs and stretch our coaching bandwidth in service of our clients' and our own coach development.
Strengths-Based Orientation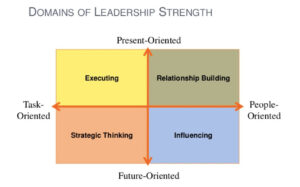 As a strengths practitioner, I can share we as people orient ourselves along two focuses: people and task.
With that said, I'm mindful not to lead you down a rabbit hole that creates a mental model where you orient your thinking to simply surmise task-focused individuals prefer a directive (push) approach and people-focused individuals prefer non-directive (pull) approach. Rather, I posit the clients we serve, the individuals and / or teams whose unrealized potential we are committed to helping unleash, are whole people.
They require of us, as professionally certified coaches, not to get stuck in the minutia of transactional vs. transformational or push and pull.
Coaching Agility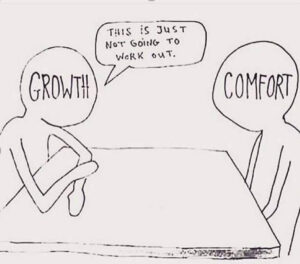 My request to my fellow coaches and aspiring-coaches-to-be is to always appreciate the privilege of what it means to be working with people who are on a development journey that is not always easy to navigate, and to always appreciate the nuance of what it means to work with people whose journey requires you to stretch your approach or POV, which may cause you discomfort in order to enable the IMPACT you desire to co-create with them.
There is value in directive and non-directive coaching, and transactional moments in a coaching session can bridge into the transformational moments that create lasting shifts for our clients.
Stretching outside of comfort zones isn't just relegated to our clients; it is a path for both client and coach.
"A comfort zone is a beautiful place, but nothing ever grows there." – Unknown